My Ghosts in Gettysburg
Where to go on vacation? We decided to combine a little genealogy and a little history, and head south to Pennsylvania. Gettysburg seemed like a good destination. There were family cemeteries along the way to investigate, and Gettysburg is steeped in history.
Reading up about Gettysburg, I discovered that it is purported to be the most haunted city in the United States. Then I caught a documentary on TV the weekend before we left on the Ghosts of Gettysburg. Well, I couldn't wait to get there!
I really didn't expect to get a picture of a ghost. I was hoping maybe I'd catch an orb. For the uninformed, an orb is said to be ghost energy - usually a ball of light. Sometimes it's seen with the naked eye. Sometimes they're only caught with the camera. Skeptics seem to think that there are no such things - that they are dust particles magnified by the camera lens. I dispute this, as I took many pictures at night, and only a few have orbs. They only appeared in places known to be haunted - Cemetery Hill and the National Cemetery are where these photos were taken.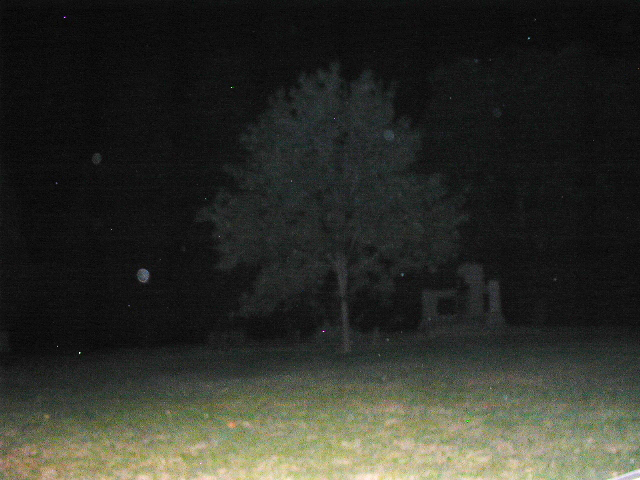 The picture on the left was taken on Cemetery Hill. I like the orb above the cannon. The one on the right was taken in the National Cemetery. Four orbs appear in the photo-two to the left of the tree, one in front of the tree near the top, and one to the right of the tree. The tiny white dots are definitely something on my camera lens, as they appeared in the same place on several pictures.
But my favorite is the one below. The National Cemetery closes at dusk. We went by one of the entrances after dark, and the gate was still open. I walked in a few yards, and started snapping pictures. All of a sudden this picture appeared in the display pane on my camera. It was a warm, clear night, and there was no wind or haze. I absolutely did not see this with my naked eyes. I also couldn't see the image in the mist until I put it on my computer when I got home.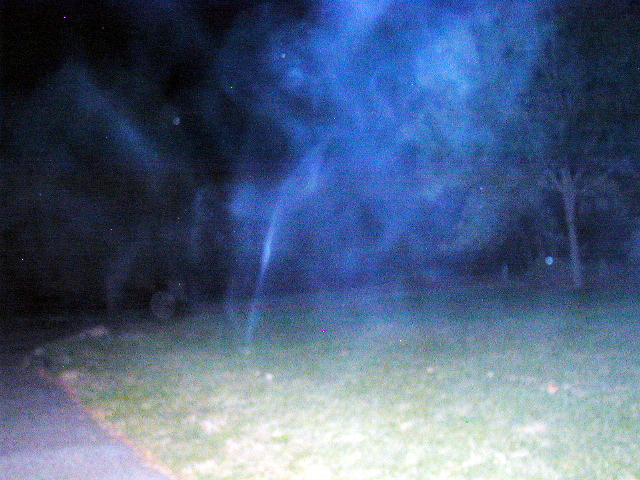 I hope you can see the face in the mist. (There is also an orb in this photo. It's at the lower left of the mist, near the ground.) I have found several pictures with the same mist effect, but have never seen one anything like this.
Are you a believer now? Just a hint - if you want to try to take pictures of ghosts, use your flash. And, set your digital camera at a high resolution. I wish somebody had told me - I have to go back now and do this right!
This page added September 17, 2008
This page has been visited
times