Anyone interested in genealogy knows of the hardships and long journeys made by our ancestors, to venture to this new world. As I delved deeper into my family's past, it became important to me to see where my family entered this country, and get a sense of what they felt when they landed on these shores. So, in June, 2001, I headed for New York, to try to capture that moment. I was not disappointed. Though you have probably seen many similar photos, I hope you enjoy seeing my visit.
Castle Garden
All of my family came to America before Ellis Island opened. A major entry point between 1855 and 1890 was Castle Garden, formerly Castle Clinton. The buildings still exist, at the southern end of Manhattan, on the mainland where you catch the ferry to visit the Statue of Liberty and Ellis Island. Our earlier immigrants have not been forgotten here, though Castle Garden has been overshadowed by the sheer numbers of those who came to Ellis Island.
This is the entrance to Castle Garden. Our immigrant ancestors were processed here before Ellis Island opened.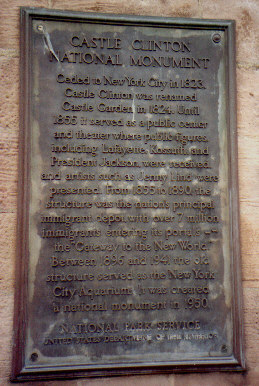 This plaque is on the wall at Castle Clinton/Castle Garden.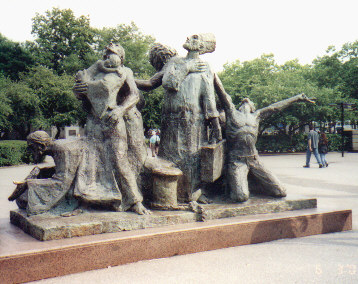 The above statue, called "The Immigrants" is in the courtyard on the Castle Garden grounds. It makes a powerful statement of the emotions our ancestors must have felt. Below is the inscription from the statue.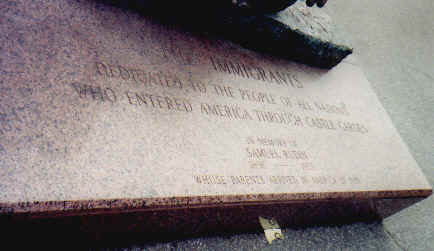 The photo below actually was taken in the subway. The picture on the wall depicts the immigrants landing at Castle Garden. What a great find this was!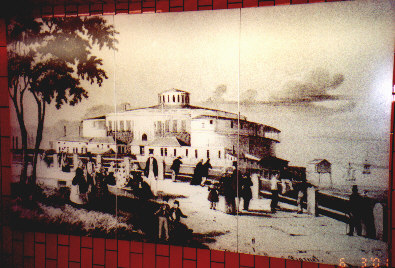 This page was created on August 15, 2001
You are visitor #
since August 15, 2001