My Mayflower Connection
It was almost by accident I found out about my Mayflower ancestors. I was in North Stonington, Connecticut on vacation, and while there did a little research on one branch of the family I knew had lived in that town. In a cemetery there I recognized the names on one of the headstones, though I didn't know if they were related. When I got home, my curiosity led me to delve further into who those people were, and from there this story evolves. This page only outlines my direct ancestors. There is much more to be found about the other children. Much has been written about the Mayflower's voyage, which I also have not included here. Maybe some day.........
Seven Mayflower passengers are my family's direct ancestors. In addition to John and Priscilla Alden, whose descendants are the main focus of this story as presently written, other Mayflower passengers who my family can claim as many-times great-grandparents are Priscilla's parents William and Alice Mullins, Richard Warren and Francis and John Cooke. The Warrens and the Cookes are the direct ancestors of Daniel Wilcox, , who married Elizabeth Cooke, the daughter of John Cooke and Sarah Warren, Richard's daughter. Daniel and Sarah are direct ancestors of Eliphalet Steward, who is described later on this page. An eighth passenger, Priscilla's brother Joseph Mullins, would be a cousin. Of the 102 passengers and 30 crew members, to be able to claim eight relatives from the ship is a distinction I wonder how many others can equal.
John Alden was born about 1599. It is believed that he came from Harwich, Essex, England, where a seafaring family named Alden lived, related to the Mayflower master, Christopher Jones, by marriage. His parents may have been John Alden and Elizabeth Daye, but this has not been fully proven. He signed on as a member of the crew, and was about 21 years old at the time the Mayflower sailed. John, who had just finished his apprenticeship, was hired as cooper. His job was to build, repair and maintain the barrels aboard ship that contained the food and drink which the passengers needed to survive. At the onset of the voyage he was given the option of staying in America once the ship landed, or to return to England.
Another passenger was Priscilla Mullins. [The family name has also been found spelled as Mullens or Molines.] About age 17 at the time, born about 1603, she came with her parents, William and Alice Mullins and her brother Joseph on that historic voyage. William was a well-to-do shoe and boot dealer from Dorking, Surrey, England. He had purchased a number of shares in the investment company that financed the Mayflower voyage, and decided to bring his wife and two of his children to America. It is believed that he was involved in a religious trial in Dorking that may have prompted his decision to emigrate. Two other children, William and Sarah, were both married and remained in Dorking at the time of the voyage. William and Alice Mullins and their son Joseph all died that first winter. Priscilla was left an orphan.
John and Priscilla were married about 1622. For such a famous couple, nearly no records exist to document their births, their marriage or the births of their children. Nor is anything known about the death of Priscilla, except it is believed that she died before her husband.
A famous Henry Wadsworth Longfellow poem, The Courtship of Myles Standish, tells a story passed down by the Alden family. It is told that newly-widowed Myles Standish, another Mayflower passenger, hoped to win the hand of Priscilla as his new wife. According to the story, he sent a messenger, John Alden, to ask Priscilla's father for permission for Myles to visit his daughter. Mr. Mullens consented, but told John that his daughter must be consulted. When she came into the room and John asked the question, Priscilla's response was, "Prithee, John, why do you not speak for yourself?" They started seeing each other shortly thereafter, and it wasn't long before they took their marriage vows.
It appears that this story may have been embellished. Myles Standish's wife, Rose, died on January 29, 1621. William Mullins died on February 21, 1621, not leaving much time for grieving on the part of Myles Standish. Because of the starvation, cold and illness of that first winter in Plymouth, it is not believed that even the flamboyant Myles Standish would have thought of courting. The story was first told by a great-great-grandson, Rev. Timothy Alden, published in 1814. Timothy wasn't born until 1736, fifty years after John Alden's death. Something may have been lost or exaggerated in passing down the story.
In 1623, a land division was made among the Plymouth colonists. The pilgrims began to spread out from the original Plymouth colony, and build homes on the land they were granted. John and Priscilla received four acres of land on the north side of the town of Duxbury, on the other side of the bay from Plymouth. The Aldens built a long, narrow house, about 10 1/2 feet wide by 38 feet long, about the size of a modern mobile home. There they raised ten children. This house was moved up the hill in the late 1600's, and became the kitchen, borning room and buttery of the existing Alden house in Duxbury, Massachusetts. It is now a museum and open for public view.
Who was this John Alden, cooper aboard the Mayflower, when he came to America? He quickly became more than a maker of barrels, a trade he continued to practice in the colony. He was one of the signers of the Mayflower Compact, an agreement drawn up by the males of the community, stating that they would choose their own leaders, make their own laws, and provide equal justice for all. The Compact became the Constitution of Plymouth Colony, and was the first American document to establish "government of the people, by the people, for the people." It is also said to be the basis for the modern Constitution of the United States. John was an assistant to the courts for the Plymouth colony for many years, and served as deputy governor for two years. He served on many juries, including a witch trial that found the accuser guilty of libel and allowed the alleged witch to be freed. He acted as treasurer, served on the Council of War, on the committee to revise laws and the committee on Kennebec trade.
John Alden died on September 12, 1687. He and Priscilla are buried in the old Duxbury burying ground, but the exact location of their graves is not known. Stones were erected for them in the cemetery by the Alden Kindred of America in the area where there are other marked Alden graves.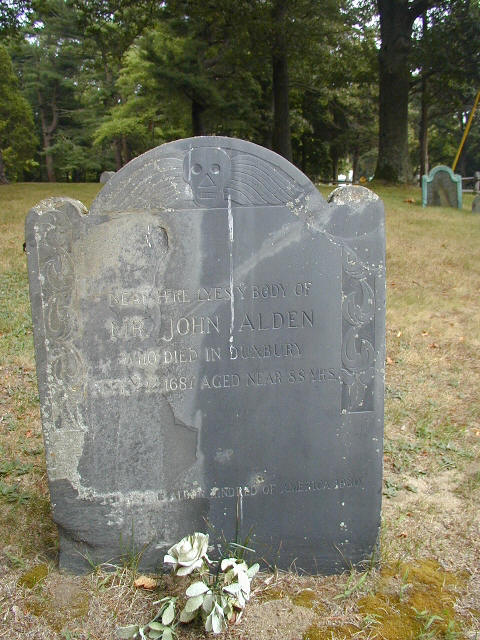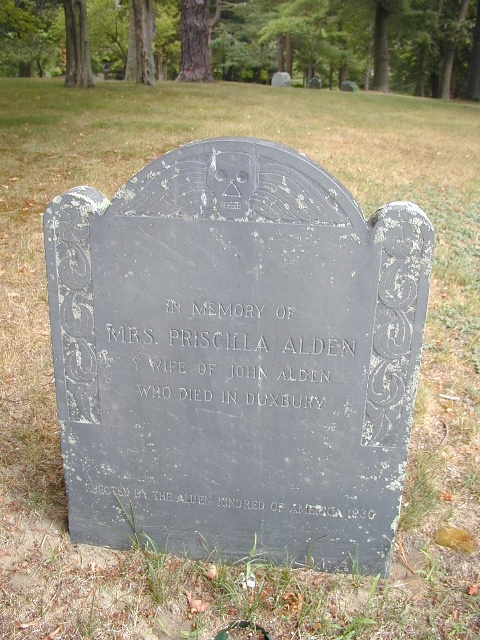 There is evidence to show that John and Priscilla had either ten or eleven children: Elizabeth, John, Joseph, Sarah, Jonathan, Ruth, Rebecca, Mary, Priscilla and David have been documented in some way. There may have been another child who died in infancy. The first three children were born in Plymouth, and the last seven in Duxbury.
Descendants of John and Priscilla include two presidents, John Adams and John Quincy Adams, and modern day former Vice-President Dan Quayle. Poet Henry Wadsworth Longfellow, who wrote the above-mentioned Courtship of Myles Standish, also descends from them. The two presidents are the grandson and great-grandson of John and Priscilla's daughter, Ruth. Henry Wadsworth Longfellow is descended, as we are, from John and Priscilla's daughter, Elizabeth. As a point of interest, Myles Standish eventually remarried. His son, Alexander, married Sarah Alden, another of John and Priscilla's children. James Danforth "Dan" Quayle is the eighth-generation great-grandson of Alexander and Sarah Alden Standish. Living descendants of my family are the ninth, tenth and eleventh great-grandnieces and nephews of Sarah and Alexander Standish, and therefore related by marriage to Myles Standish, too.
My family is descended from John Alden and Priscilla Mullins through Carrie Ett Rexford and Richard T. Merchant, the great-grandparents of my generation. John and Priscilla are my tenth-great-grandparents. Increase that ten by one for each generation younger. While I don't know many details of the lives of the families below, I have tried to give you a small picture of whom their families were and where they lived.
Our family is descended from John and Priscilla's oldest daughter, Elizabeth. She was born about 1623. She married William Pabodie on December 26, 1644. William was born about 1619, and was a civic and military leader of Duxbury. They had thirteen children, all of whom were born in Duxbury: John, Elizabeth, Mary, Mercy, Martha, Priscilla, Priscilla, Sarah, Rebecca, Hannah, William, Lydia and Ruth. (For those of you who are paying attention, the duplication of the name Priscilla is intentional. The first Priscilla died as an infant, and as was common in those days, the next daughter was given the same name.) The family moved to Little Compton, Rhode Island, where William died on December 13, 1707, and Elizabeth died in May 1717. Both were buried in the Old Commons Burying Ground in Little Compton.
Next in direct line of our ancestors is Elizabeth and William Pabodie's son, William, who was the eleventh of their thirteen children. He was born November 24, 1664 in Duxbury, Massachusetts, and married three times. His first marriage, to Judith Tilden, took place on June 27, 1693 in Massachusetts. Judith was born June 1, 1670 in Scituate, Massachusetts, and died in July 1714 in Little Compton, Newport, Rhode Island. He then married Elizabeth Throop Peck, probably in Little Compton. She was born about 1667 in Barnstable, Massachusetts, and died December 14, 1717 in Little Compton. His third marriage was to Mary Morgan Starr, who was born about March 20, 1669 in New London, Connecticut, and died September 14, 1765 in Stonington, Connecticut. William died September 17, 1744 in Little Compton, and is buried there in the Old Commons Burying Ground, as is his second wife, Elizabeth. It is likely that Judith, his first wife, is also buried there, though this hasn't been proven.
William Pabodie and Judith Tilden had eight children: Elizabeth, John, William, Rebecca, Priscilla, Judith, Joseph and Mary. All were born in Little Compton, Rhode Island. Some of the children have been found with the spelling of their surname as Peabody, which dates back to their early family in England. Their oldest daughter, Elizabeth, is our direct ancestor.
Elizabeth Pabodie was born April 10, 1698 in Little Compton. She married Edward Gray on May 9, 1716. Edward was born November 29, 1699, also in Little Compton. He died there on September 10, 1758. It is not known when or where Elizabeth died. Elizabeth Pabodie and Edward Gray had nine children: Daniel, Thomas, Mary, Anstes, Edward, Anna, Rebecca, Phebe and Robert.
It was my discovery of the grave of Anna Gray in the Wheeler Cemetery in North Stonington, Connecticut, that made me look closer at this family, and ultimately discover the Mayflower passenger connection. At the time I was researching our Steward ancestors. I found Anna Gray's headstone inscription with her husband, John Coats (or Coates) near the headstone of a Steward ancestor. I believe John is the brother of William, who married Anna's sister, Anstes, and is described below.
My family continues with Anstes Gray, fourth child of Elizabeth and Edward. There is conflicting evidence as to the date of her birth, but it appears that she was born July 10, 1726 in Little Compton, Rhode Island. On September 28, 1742 she married William Coates in North Stonington, Connecticut. William was born November 20, 1721 in Stonington, Connecticut. I have not as yet discovered when or where Anstes and William died, but it is likely they stayed in Connecticut. Anstes Gray and William Coates had ten children: Hannah, William, John, Anna, Edward, Anstes, Thomas, Rufus, Phebe and Mercy. Hannah was born in Stonington, New London, Connecticut. William, John, Anna and Edward were born in Lebanon, New London, Connecticut. It is not yet known where the last five children were born.
Mercy Coates, the youngest of the children of Anstes and William Coates, is my next direct ancestor. She was born either September 5 or 6, 1764. She married Eliphalet Steward, who was born August 14, 1759 in Stonington, New London County, Connecticut, the son of William Steward, Jr. and Elizabeth Stevens. Eliphalet was a Revolutionary War soldier, who enlisted in Stonington in the fall of 1776 at the age of seventeen. The date of their marriage is not known. In 1795 they were living in Plainfield, Otsego County, New York. From there they moved to Frankfort, Herkimer County, New York, and in 1811 moved to Busti, Chautauqua County, New York, where they bought land to operate a farm. Mercy died of consumption. Her death date is in question. She most likely died April 18 or 19, 1813, but the death certificate on file at Lakeview Cemetery shows April 18, 1818. Since this was written many years after her death, it could very well be in error. Eliphalet died of consumption on November 3, 1837. Both were buried in Frank Settlement Cemetery in Busti. In 1890 their remains were moved to Lakeview Cemetery in Jamestown, Chautauqua County, New York, where they are buried with their daughter Elizabeth's family.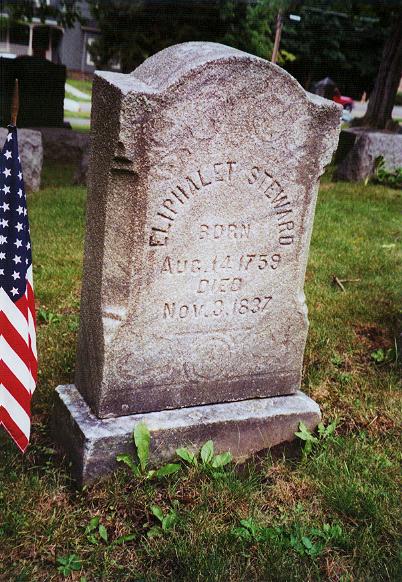 Eliphalet Steward and Mercy Coates had four children: Lucy, Anna, John and Elizabeth. Lucy married Stephen Wilcox, Jr., the son of Stephen Wilcox, who also came to Busti from Stonington, Connecticut. Anna Steward married Walter Crouch. John Steward married Eunice Wilcox, the sister of Stephen Wilcox, Jr. Elizabeth Steward married Michael Frank. I haven't found much about Anna and Walter Crouch. The others all were involved in farming.
The next focus of this family is John Steward and Eunice Wilcox. John was born June 14, 1786, possibly in Connecticut. He married Eunice Wilcox December 26, 1805 in Bridgewater, Oneida County, New York. Eunice was born February 23, 1787 in Stonington, New London County, Connecticut, the daughter of Stephen Wilcox, Sr. and Sabra Palmer. She was the sister of Stephen Wilcox, Jr., mentioned above. Stephen Wilcox, Sr. was a Revolutionary War soldier who came to Chautauqua County, New York in 1815. Stephen was a descendant of Daniel Wilcox, mentioned in the first paragraphs above, and therefore also a Mayflower descendant. John and Eunice moved to Busti with his family in 1811 from Herkimer County, New York to help his father start his farm. John was a farmer until he died April 15, 1826. Eunice then lived with her son, John and his family until her death May 17, 1875. Both were buried in Greenwood Cemetery in Panama, Chautauqua, New York.
John Steward and Eunice Wilcox had twelve children: John, Sardius, Lucy, Baname, Stephen, Eliphalet, Almira, Alexander, Cornelia, Rhoda, Alfred and Elizabeth. John, Jr. married Joanna Glidden. Sardius married Rhoda Ward. Lucy married Levi Lewis. Nothing is known about Baname. Stephen married Olive Dexter, then Caroline Stevens. Eliphalet married Clarissa Polley. Almira married Daniel Glidden. Alexander died as an infant. Cornelia married Gustavus Bentley. Rhoda married Horace Gifford. Alfred was married three times, to Minerva Bentley, Julia Hawkins and Cordelia Robinson. Elizabeth married Henry Lakin. Most of the children were involved in farming.
From this prolific family I descend from Eliphalet Steward and Clarissa Polley. Yes, I really did have two ancestors named Eliphalet. Eliphalet was born in Ellicott, Chautauqua County, New York on February 22, 1815. He married Clarissa F. Polley November 12, 1835 in Harmony, Chautauqua County, New York. Clarissa was born October 5, 1818 in Augusta, Oneida County, New York, the daughter of Hiram and Anna Polley. They had a farm in Harmony, where Eliphalet prospered as both farmer and cattle buyer. Eliphalet died December 3, 1885. Clarissa died April 4, 1888. Both are buried in Greenwood Cemetery in Panama, Chautauqua County, New York.
Eliphalet Steward and Clarissa Polley had nine children: John, Mary, Helen, Anna, Eunice, Millard, Arba, Frank, and Fred. John married Celestia LaBounty. Mary married Henry Leslie. Helen married Charles Rexford. Anna married George Johnson. Eunice married Myron Widrig. Millard married Rillia Matson. Arba married Iva Ona Lewis. Frank married Harriett Wiltsie. Fred died at the age of one.
Helen Johanna Steward and Charles Edgar Rexford are next in my direct line of ancestors. Helen was born September 25, 1845 in Harmony, Chautauqua County, New York. Charles was born August 30, 1844, also in Harmony, the son of Reverend Levi Rexford and Lurancy Dowd. In his early years, Charles was a farmer. He then apprenticed as a millwright, became a carpenter, building homes, and also served as deputy sheriff in the town of Harmony. Helen was a dressmaker. Helen died in 1912. Charles died in 1918. Both are buried in Greenwood Cemetery in the village of Panama, Chautauqua, New York.
Helen Steward and Charles Rexford had two daughters: Carrie and Merta. Carrie married Richard Merchant. Merta married DeWitt Alsdorf.
Carrie Ett Rexford and Richard T. Merchant are the great-grandparents of my generation. Carrie was born October 2, 1866 in Harmony, Chautauqua County, New York. Richard was born April 25, 1851 in Little Valley, Cattaraugus County, New York, the son of Chauncey Hyde Merchant and Helen VanZile. Richard had been previously married. His first wife, Florence, died in 1880, and their daughter, Mary, died in 1883. Carrie and Richard were married February 8, 1885 in Harmony. Richard operated a general store in Lakewood, Chautauqua County, New York, and was postmaster of the Lakewood Post Office. The store was destroyed in a fire in the mid 1890's, after which he became a real estate salesman, and then a traveling salesman, promoting computing scales. Richard died November 28, 1900 in an explosion in the family home. Carrie was a dressmaker. She raised her young children alone and supported the family with her needlework after her husband died. In about 1918 she married William A. Dunn. William was born in December 1851 in Pennsylvania. They moved to Russell, Warren County, Pennsylvania, after their marriage. Carrie died in 1928. She is buried with Richard Merchant in Busti Cemetery, Busti, Chautauqua, New York. I haven't found out what happened to William.
Carrie Rexford and Richard Merchant had six children: Charles, Helen, Mary, Carolyn, Rue, and Harriet. From these children came the now-living descendants in our family of John Alden and Priscilla Mullins, Richard Warren and John Cooke.
Here my part of the story of my Mayflower ancestry comes to an end, for now. John and Priscilla Alden are believed to have the most descendants of all the passengers of that famous ship, and it is their family that is the main focus of this page. As time permits I'll include more about the Wilcox family. Our family is just one little twig on a small branch of a very large tree. When I celebrate Thanksgiving, I remember how the celebration began, and it gives me much pride to know that my roots are firmly planted with the people who first came to America on the Mayflower in 1620.
This page last updated 7-20-2006
You are visitor #
since 7-20-2006